Dogs and cars are an entirely different love story. The sight of dog ears flapping in the wind, their tongues hanging out with perhaps a cute smile on their faces as you drive across the countryside is a beautiful sight to behold. It is, perhaps, one of the happiest moments between a dog and their favorite human. Here's why you should always have a dog seat in your car:
Driver Distraction: Pets should never be kept loose while driving. No matter how much you adore your dogs, they can want human comfort while traveling because of unknown places they see or have been sitting in confined spaces for too long. These free-roaming pets will cause a distraction for the driver, who should be concentrating on the road. Pets can jump into the driver's lap, blocking the driver's view, or get tangled in the gas or brake pedals, making the driver unable to control the vehicle. As mentioned later, having a dog seat in your car helps in these situations miraculously.
Riding in the front seat: Your dog cannot be seated in the front passenger seat, no matter how well-behaved it may be. Moreover, if your dog is unrestrained, it will exert force if a collision happens. So, buying a restraint for your dog is necessary. However, even with a harness on, your dog should be seated in the back only. While some harnesses claim to be crash-tested, having your dog safe and sound in the back seat is still better. Your best option for keeping your furry loved one safe, comfortable, and happy is to buy a good, durable, comfy car seat.
Here are 9 Best Car Seats for Large Dogs
Choosing the best dog seat for your canine friend might be challenging, considering there are numerous dog seats out there with eye-catching appearances. Still, their quality drops when it comes to performances. So here are nine of the best car seats for large dogs:
1. Snoozer Lookout II Pet Car Booster Seat
The Snoozer Lookout Pet Booster is durable on every thread. It has a made-to-order fabric that can be felt in delicate and subtle clothing. Snoozer makes fashionable and durable beds, car seats, and carriers, along with other pet products. These lookout seats provide a cozy and safe place for your dog. Some of the key features are:
Woolen interiors
Foam form
Pet storage tray included
A strap that attaches the seat belt to the harness
It is a fantastic buy if you want your pet to be safe and comfortable.
Pros:
It allows your dog to get a better view of the world outside by elevating him.
It is incredibly relaxing.
The sherpa lining keeps you warm on the inside while keeping you cool in the heat.
The design is fashionable.
Cons:
The tether can come loose if not correctly installed.
When it comes to car seat beds, the more expensive models are available.
2. Bucket Booster Pet Seat by K & H Pet Products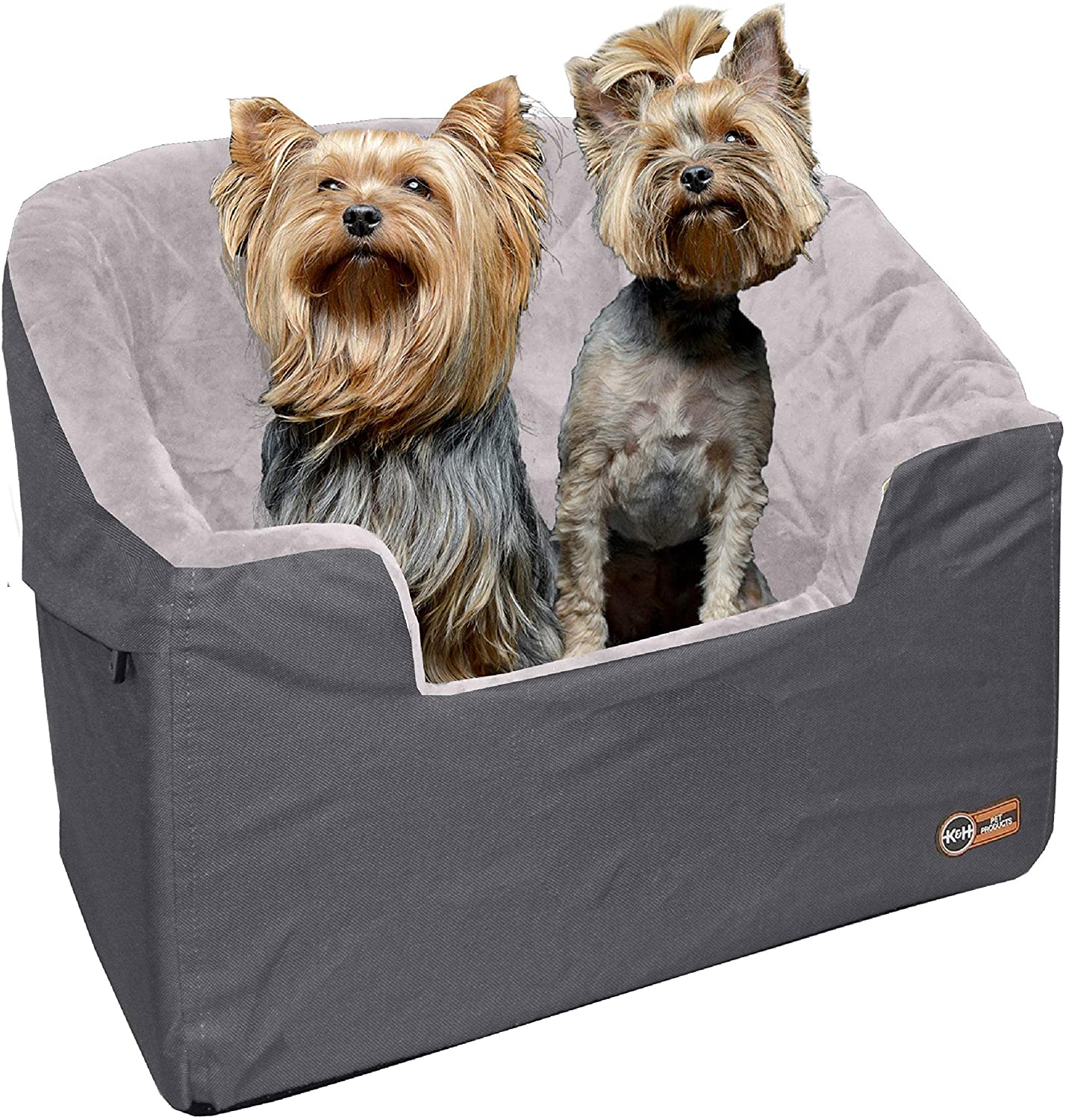 The K & H Bucket Booster is a pet car seat that gives your pet a safe and secure place to ride while also raising them for a better view out the window. The Booster includes a robust heavy-denier fabric outside and a contrasting luxurious quilted fleece interior for your pet's comfort. The contoured back is designed to fit in either the front or back seat of your vehicle, ensuring a snug fit inside. The K & H Bucket Booster secures your seat belt and conceals it beneath the removable cushion. Installing and uninstalling it is quick and straightforward. The front of the seat dips down, making it easy for your pet to get in and out. There's a firm foam bolster around the edge. Tethers that can hook onto your pet's harness to assist your pet are included in the bucket booster.
Pros:
With a luxurious quilted fleece interior, it's incredibly comfy for pets. It is quick and easy to install and remove from any vehicle.
Two security leashes are included to attach to a seatbelt for more protection.
Cons:
It is a bucket booster only and will not provide added protection should a collision happen.
Colors can fade and change over time, from grey to purple.
The front of the K & H Bucket Booster seat that dips can be easy for interested dogs to hurdle over.
3. Car Booster Seat for 4 Pets
The A4 Pet Car Booster Seat is a deluxe pet booster car seat for large and medium-sized dogs and cats. Its dimensions are: 29″ L x 16″ W x 14″ H. It also provides a better perspective for pets by elevating 6. 5 inches above the vehicle seat, allowing them to gaze out the window. When traveling, the side storage pocket can be used to store items. Sturdy and secure: a safety leash, two seat belt loops, and a sling are incorporated to make it quick and secure on the vehicle seat, keeping your pets restrained for safety while driving. It is foldable, portable, and washable due to its original structure, which allows it to be folded flat for storage. A free carry bag is also included, and it is effortless to carry.
Pros:
Portable and very easy to store.
Double-sided usage
Removable filling to aid cleaning
Cons:
It might not fasten easily and might take some time.
Reports of breakage have come from people who have bought it.
4. PetSafe Happy Ride Jumbo Booster Seat.
As you drive down the road together, the pet safety seat cradles your dog in comfort and security. It comes with Safe-T-Core technology, a robust internal structure that connects with the car seat belt to further your pet's protection. This fits securely in the front or rear seat in under a minute. In addition, the accompanying 2,000-pound strength-rated safety tether has been tested.
Pros:
Strap belt that offers maximum protection to pets
Lightweight construction that allows it to be carried around
Equipped with a rigid plastic frame that helps with easy installation
Cons:
5. Large Dog Lookout Booster Seat CHEERING PET
Your pet will be comfortable and secure in the car with the Cheering Pet Booster Seat. It can be utilized in automobiles, trucks, and SUVs. This dog car seat is meant to elevate your pet above your vehicle's seat, allowing them to take in the scenery.
The Cheering Pet dog lookout booster seat is premium polyester fabric lined with extra thick fur for your pet's comfort. It also has a foldable and portable design. The pet booster seat may be folded up and stored in the carry bag when not in use. You can conveniently store your pet's toys, treats, leashes, and other knickknacks in the side storage pockets.
Pros:
It is enormous, thus allowing the housing of two full-size dogs.
It is easy to store as it can be folded up and stashed away.
An Adjustable Safety Strap
Reversible Cushion
Cons:
It could be too shallow for a medium-sized puppy.
Also Read: 11 Most Healthy Dog Breeds – Pals That Live Long
6. Kurgo Car Pet Booster Seat for Dogs or Cats
The Kurgo Skybox Booster Seat for Dogs provides your dog with a cozy vehicle seat from which they may enjoy the ride while looking out the window. The corduroy version of our award-winning booster seat keeps your dog off your lap and out of the way while you drive. This reduces the risk of an accident. This dog booster car seat can be installed in either the front or rear of the vehicle. It fits either the front or rear bucket seat swiftly and securely. Metal supports for structural strength and folding for easy storage are included in this dog carrier car seat. Side pockets with zippers are included for storing dog treats, toys, and accessories. It holds up to 30 pounds, making it excellent for pets weighing up to 20 pounds.
Pros:
Sturdy
Excellent safety features.
Easy to install
Cons:
Small dogs cannot enter because the walls are too high.
7. Vamtner Dog Car Seat for Large or Medium Dogs
This large dog car seat is designed to fit a large or medium dog weighing less than 60 pounds or two small or medium pets weighing 20 pounds each. It can be put in a car's back seat or an SUV's trunk. The fixed automobile seat belt's length can be adjusted from 45 to 65 inches. Before you buy, double-check that the length range is appropriate for your car model.
The soft three-layer composite fabric, high-density sponges, high-resilience PP cotton, customized dog car-seat safety belts, 360° rotatable safety buckles, and clear granular non-slip bottoms are the raw materials used. Everything is done to keep your pet secure while you drive and decrease the chances of being distracted. The soft layers allow your dog to move around freely. Open the zipper on the large dog car seat by flipping it over. You can remove all of the sponges and PP cotton. Only the dog booster seat cover needs to be cleaned. It's machine washable, hand-washable, and dry-cleanable. The temperature of the washing water should be around 45°C. All attachments must be disassembled and placed for 2-3 hours to restore their shape after being removed from the vacuum box when utilized for the first time.
Pros:
It is very comfortable.
Easy to clean.
Extra storage
Environmentally friendly
Cons:
Not enough padding
There is no room for harness buckles.
8. Snoozer Lookout: Pet Car Seat
With a range of colors to choose from, you're sure to find the right car seat for you and your pet. The Lookout I dog car seat is made with a simulated lamb's wool lining and is sure to provide a cozy and safe haven for your pet while in your car. The Lookout Travel Rack can also be included for increased convenience, which allows your pet to enjoy food and drink while on the road. The Lookout elevated car seat is excellent for dogs who become car sick or anxious. Looking out the window can help alleviate anxiety and nausea.
Even dogs that dread car travel will come to appreciate it once they have their own secure, comfy sleeping area. The exterior of this Snoozer I Lookout seat is made of quilted poly-cotton fabric, while the interior is made of plush Sherpa. This car seat has a poly-cotton material that is nice to the touch but robust enough to withstand regular wear and tear. Our fade-resistant, shrink-resistant, and wrinkle-resistant poly-cotton exterior can withstand rigorous use and regular cleaning while still looking beautiful. The Sherpa interior provides a comfortable and cozy environment for your dog to sleep in. The inside strap holds your dog in the Lookout by hooking to their harness, while the elevated dog car-booster seat links into the seat belt system to keep it in the backseat. Use a dog harness instead of a collar for added safety.
Pros:
Very durable
Comfortable
Anxiety reducing
Cons:
It is only available for small dogs up to 18 pounds.
9. Blobo Dog Car Seat Pet Booster
Oxford cloth keeps pets warm and comfortable, is bite-resistant, and long-lasting. It is easy to install, has an adjustable buckle design, and can be rapidly installed. This feature makes it appropriate for a wide range of vehicle types. In addition, the seat belts ensure your pet's safety, and you won't have to worry about them bothering you while driving.
According to your preference, it may be put in the front or back seat of the car; there are storage bags on both sides, which can be used to store daily pet essentials.
The dog seat cover is easy to detach and clean; the booster seat has an excellent heating function and can also be used as a pet bed. Please remember that this booster seat is only intended for tiny pets (up to 35 lbs).
Pros:
It prevents pet hair from staining and pets from scratching car seats.
Easy to clean.
It is very durable as it is made of oxford and polypropylene webbing.
Easy to install.
Cons:
Expensive
The rubber padding underneath the seat is flimsy.
Dog car seats are a human being's best friend for traveling on roads, whether you are out for a long road trip, driving, or even going to the supermarket.
Advantages of CAR SEATS
Safety: Every dog owner's first and foremost priority while traveling with their dog should be their pet's safety. Therefore, having an adequate-sized dog seat prioritizes your dog's safety while you drive. These seats protect the dog from many issues, like driving on a bumpy road or when you suddenly put your brakes.
Relaxes the Dog: Even the best-behaving dog might feel uncomfortable or anxious while in a car. Having a dog seat enables your dog to get comfortable however they want to be and breathe more appropriately while enjoying the view.
Interiors Remain Clean: Dogs suffering from motion sickness might often vomit inside the car. In addition, having a car seat means your car interiors remain cleaner and more hygienic.
A car seat should attend to your pet's and your safety needs while driving. While you may find hundreds of car seat options online, we have curated the above list keeping all relevant factors in mind.
Elena Gherman is a highly skilled and knowledgeable animal care expert. At the start of her career, she gained practical expertise with multiple animals. In addition to that, she works as a DVM veterinary editor for Joy Pet Products, which focuses on offering reliable information on pet health and wellbeing. She meticulously reviews each piece of writing before it is published to make sure pet owners get the most precise and updated information possible.