Are you fond of large breed dogs like German Shepherds or Great Dane? If yes, then let me tell you that these big dogs have unique nutritional requirements. Although dietary needs for most dogs are similar to some extent, there are still some minor variances between food formulated for small and large-breed dogs.
As a responsible dog owner, you need to understand this difference and feed your doggo right.
Please continue reading to know more about finding the best large breed dog food and why their needs are different.
Different Breeds! Different Needs! Why?
As already discussed, all dogs have specific similar dietary needs. Still, you wouldn't like to feed the same food to a German shepherd and a Terrier. Why? Because their calorie requirements are radically different.
From a biological perspective, the metabolism rate of large breed dogs is lower than the small ones. The daily requirement of an average adult dog is roughly around 30 calories per pound of his body weight, with small breeds requiring as much as 40 calories per pound and other large breed dogs needing as few as 20 calories per pound. Although your dog's activity level plays a vital role in establishing his everyday calorie requirements, the main difference in large and small dog diets is this.
Also, to avoid excessive weight gain, you must feed large breed dogs on a calorie-restricted diet. This is essential because studies suggest that a large breed dog who develops excess weight in his first years of life is more likely to develop arthritis later. As a result, the food for large breed dogs typically has fewer calories.
Now that we know that feeding the right food to a dog is essential, let's look at some of the best large breed dog food.
1. Blue Buffalo Life Protection Formula
This protein-rich food is enhanced with antioxidants and other essential vitamins and minerals, including whole grains that are good for your dog. It also has healthy fruits and vegetables and high-quality protein sources to support brain development, muscle maintenance, and immunity.
What's more? Since it's also rich in Omega 3 & 6 fatty acids, it helps maintain your dog's healthy skin and coat. Also, it is rich in Vitamin E, which wards off tissue damage caused by aging, and glucosamine, which supports joint health.
Highlights:
Rich in antioxidants
Real meat to build and strengthen muscles
Fish oil to promote healthy skin and coat
2. IAMS Minichunks
Iams Proactive MiniChunks is a dog food created to keep your dog healthy on the inside and out. It contains probiotics for healthy digestion, chicken and egg protein for more substantial muscles. It also has even vital nutrients for heart health and antioxidants to support a healthy immune system.
To ensure complete and balanced nutrition, IAMS Dog Food contains no preservatives or flavors, as well as no fillers. This protein-rich dog food comes in the form of smaller kibbles, ensuring that your pet gets just the proper amount of food. The first ingredient is real farm-raised chicken, a high-quality protein that helps your dog develop strong muscles.
With a highly advanced blend of beneficial fibers and prebiotics, it also aids healthy digestion. In addition, it contains immune-boosting antioxidants to support a healthy immune system.
Highlights:
Premium sourced protein
A unique blend of prebiotics and fiber
Rich in antioxidants
3. Amazon Wag Dry Dog Food
Amazon has launched their dog food line, called "Wag." The wag food offers five different recipes to choose from:
Salmon & lentil
Beef & lentil with wild boar
Lamb & Lentil
Turkey & Lentil
Chicken & Lentil
The primary proteins utilized in each recipe are the only significant differences between them. In addition, all these recipes are compliant with AAFCO standards and have similar nutritional profiles. As a result, you may select the formula you believe your dog would enjoy the best.
Wag dog foods appear to be healthy and made with high-quality ingredients. They all contain whole protein and five distinct probiotic strains to improve your dog's digestive health.
Highlights:
Nutritious and wholesome
Real chicken is the number 1 ingredient
AAFCO standards compliant
Rich in antioxidants
Glucosamine for bone health
4. Rachael Ray Nutrish Dry Food
With Rachael Ray's Nutrish Dry Food, you can give your dog food you can feel good about. It is specially formulated for large breed dogs, with USA farm-raised chicken being the number 1 ingredient. It also contains glucosamine and chondroitin, which improves your dog's joint health and mobility.
This best large breed dog food contains protein and fiber to keep them full and content and vitamins and minerals to help dogs maintain healthy hips and joints. It's made with flavorful peas and fiber-rich brown rice to assist healthy digestion while also boosting energy levels.
That's not all! It is packed with omega-three and omega-six fatty acids, which promote healthy skin and a shiny coat. To keep your furry friend healthy, it also contains other essential vitamins, minerals, and taurine.
Highlights:
No artificial preservatives or flavors
Real chicken is the first ingredient
Contains no poultry by-product meal or fillers
Rich in healthy fatty acids – omega 3 & 6
5. Diamond Naturals Premium Large Breed Dog Food
Diamond Naturals delivers complete, holistic nutrition for all dogs, using only the highest-quality ingredients. Each Diamond Naturals dry recipe is supplemented with superfoods and guaranteed probiotics for maximum nutrition and digestive support. In addition, protein and fat levels in the right proportions give the nutrients needed to keep a large physique in good shape.
It also contains Omega-6 and omega-3 fatty acids from superfoods which assist in maintaining healthy skin and a lustrous coat, while glucosamine and chondroitin strengthen joints.
Highlights:
Adequate nutrient levels to support the growth of larger bodies
Calcium and phosphorus are essential for bone and joint growth.
DHA is vital for brain and eyesight development.
L-Carnitine aids in the conversion of fat to energy.
6. Purina One Smartblend Natural Large Breed Dog Food
Purina ONE is produced by Nestlé Purina Petcare, the world's largest pet food company. This specially formulated dry dog food will brighten your large breed dog's day. It is a high-protein dog food recipe that features real chicken as the first ingredient. The mix of delicate, protein-rich meaty morsels and crunchy kibble gives him the flavors and textures he craves. Since it is rich in protein, it also promotes strong muscles and a healthy heart.
And let me tell you, that's not all! It is a veterinarian-recommended product containing added vitamins, minerals, and essential nutrients. It is developed to help your dog maintain his ideal weight and joint health. It is crafted with only high-quality ingredients and does not contain any preservatives, fillers, or artificial flavors.
In every serving of Purina ONE SmartBlend dog food, your dog is provided with complete and balanced nutrition. This is why this product deserves a top ranking in our list of the best large breed dog food.
Highlights:
Real chicken is the first ingredient
Glucosamine to support joint health
DHA to support brain and eye development
Specially formulated for large breed dogs
7. Purina Pro Plan High Protein Dog Food
This dry dog food is many dog owners' favorite. Apart from helping your furry friend maintain an ideal weight, it also includes oatmeal and prebiotics. Oatmeals are very helpful for dogs who have a sensitive stomach, and prebiotics aid indigestion. Above all, it has sunflower oil which has a high content of omega-six and omega-three fatty acids.
Purina Pro Plan also comes in various protein and flavor alternatives so that you can choose the one depending on your pet's preferences.
Highlights:
Rich in omega three and omega 6
Helpful for dogs with a sensitive stomach
Maintains a healthy coat and nourishes the skin
8. Nutro Natural Choice Large Breed Dog Food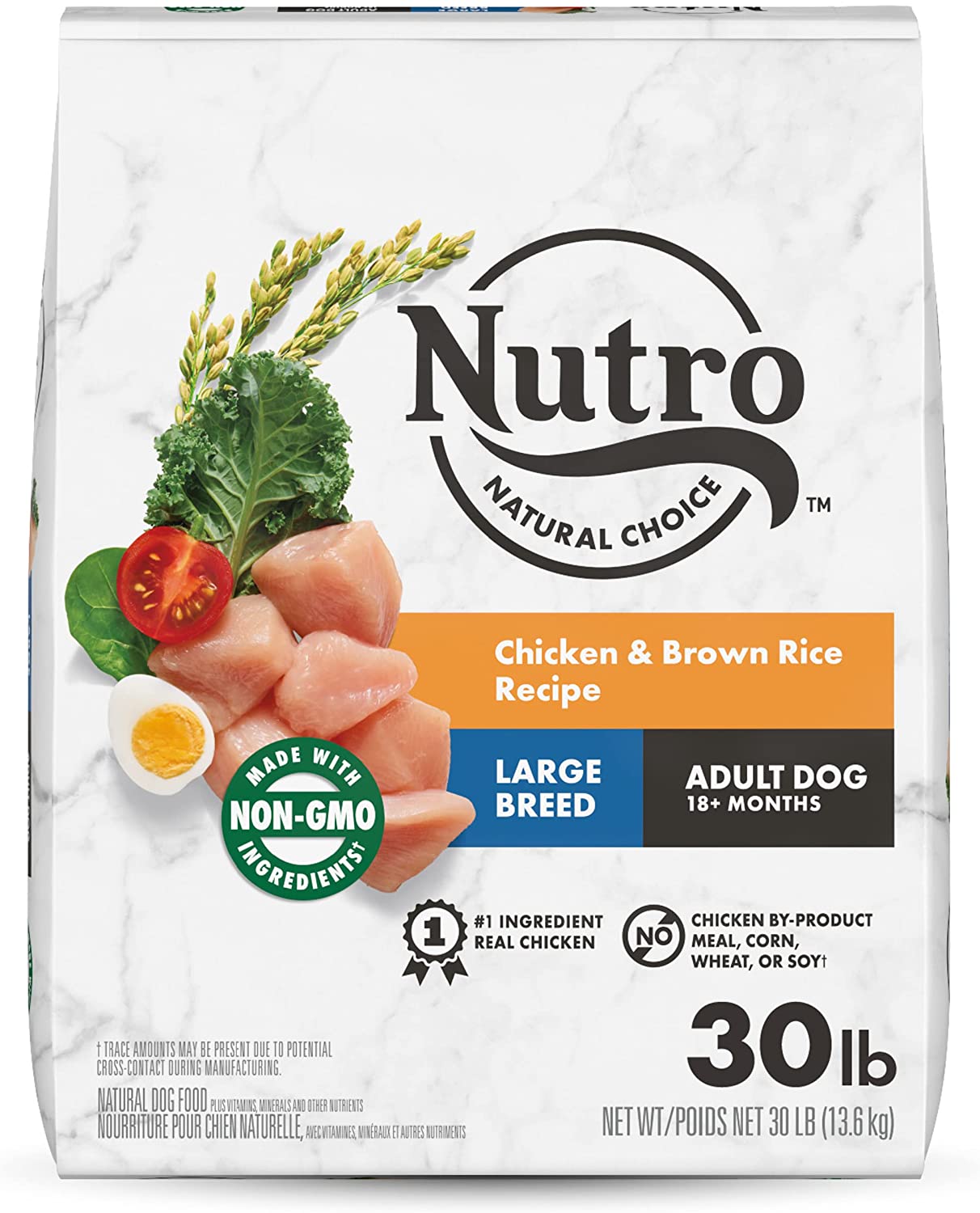 NUTRO NATURAL CHOICE Dry Dog Food formulas provide your pet with the healthy nutrients they crave. A specialized balance of protein and fiber is crafted to maintain your big bog's ideal physique. In addition, it's designed to promote healthy joints, using natural sources of glucosamine and chondroitin, as well as essential antioxidants for immune health.
This tasty chicken and brown rice meal have a high-quality protein source as its first ingredient. It also contains no chicken by-product meal, maize, wheat, or soy and is manufactured with non-GMO ingredients.
It is formulated so you can feel good about feeding your dog nutrient-dense, flavor-packed dishes.
Highlights:
Supports joint health
Promotes immunity
High-quality protein source
Non-GMO ingredients
9. Hill's Science Diet Dry Dog Food
Hill's science dog food is the best large breed dog food when it's all about an overall terrific choice. It contains premium ingredients, including real chicken, natural forms of glucosamine and chondroitin(which are building blocks of joint health), fatty acids like omega-six, and other essential vitamins. Apart from this, it is also rich in antioxidants.
Large-breed dogs are prone to joint problems, which is why Hill's Science Diet is recommended for them. Advanced nutrition in Large Breed dry dog food has been proved to promote healthy joints and improve mobility. It is rich in natural fibers, which keep your dog satiated between meals. In addition, this dog food is created with fatty acids and Vitamin E, which are essential to nourish the skin and help your dog preserve a lustrous coat.
Highlights:
This dry dog food is available in both dry and wet forms.
Excellent flavor choices
Supports joint and immune health
10. Wellness Complete Health Dog Food
This food is specially formulated to support your large dog's nutritional needs. It is rich in calcium and glucosamine, which help in maintaining healthy bones and joints. In addition, to support immunity, it contains added vitamins and proteins.
Wellness complete health recipes have premium ingredients to give your dog a balanced meal. Antioxidants and balanced nutrients are used in each recipe to maintain healthy immune systems and provide optimal energy.
Highlights :
Natural, premium proteins
Joint health
Rich in antioxidants
For your large-breed dog, we've selected some excellent dog food products. However, we recommend talking with your veterinarian before feeding anything new to your dog. The vet can assist you in understanding any health issues your dog is having and propose dog food that will best support his unique health requirements.
Now, let's have a quick look at what to look for while buying the best large breed dog food.
things to consider before Selecting the Food for Your Large Breed Dog
The following are some characteristics to look for in high-quality large-breed dog food:
It should contain no fillers, by-products, or artificial additives.
Must be manufactured with whole food ingredients.
It should be rich in lean protein. Lean protein is best obtained from animal sources such as meat, poultry, and fish.
Depending on the activity level of the dog, low to moderate fat content is recommended.
Larger kibble size to limit portion sizes and reduce the danger of bloat in dogs.
Buy food that has the label "complete & balanced."
Beyond all these factors, you must consider your dog's unique needs and preferences, as well as consider consulting your veterinarian.
conclusion
Being the owner of a large breed dog comes with several responsibilities, and one of them is feeding him right. After all, you would want to pick the best large breed dog food to help your dog enjoy a healthy and active life. According to researchers, one of the things you can do to keep your dog healthy and prevent sickness is to provide a well-formulated, high-quality diet. Unfortunately, this can put the owners under tremendous pressure to discover the finest dog food for large breeds.
I hope this article helped you choose the right food for your large breed dog's nutritional needs.
Elena Gherman is a highly skilled and knowledgeable animal care expert. At the start of her career, she gained practical expertise with multiple animals. In addition to that, she works as a DVM veterinary editor for Joy Pet Products, which focuses on offering reliable information on pet health and wellbeing. She meticulously reviews each piece of writing before it is published to make sure pet owners get the most precise and updated information possible.