Being a dog owner is not easy. It comes with a set of obligations, and one of them is to correctly and successfully teach and discipline your dog. No two dogs are the same, much like humans. Therefore, each trainer has a unique perspective on how to care for their dogs. This gave rise to many dog training tools and materials.
Professional dog trainers consider shock collars to be one of the most successful techniques available today. These collars help stop obstinate and unpleasant dog behaviors, including excessive barking, aggression, etc.
Since every dog is different, you won't know how yours will react to a shock collar until you use it. Static shocks are preferred by certain dogs, while vibration is sufficient for others. A giant dog may need a more robust deterrence than a smaller dog, and some learn faster than others. Before you buy one, you must do proper research on the types, usage, and advantages, and disadvantages associated with it.
Yes, there are a lot of connotations surrounding shock collars for dogs. That is because you will be administering a type of electricity to your beloved pet's body. However, when used correctly, it can be a terrific tool to train your dog.
Which shock collar should you use for your dog?
What things should you consider while buying a shock collar?
How to use them?
Are they safe?
Wait, wait! Read on to find out everything about shock collars.
Let's get started!
Best Shock collars for Large Dogs
#1. Educator E-Collar Remote Dog Training Collar
Well-known for its adaptable design, it is the best shock collar for large dogs available in the market today. The remote and collar have a 12-mile range between them, and you may use them in a variety of different ways to figure out what is best suited for your dog. For example, for use during nighttime, you can use the tracking light on the collar. In addition, the remote has options of tone, vibration, regular stimulation, and increased stimulation modes.
This training collar lets you choose from various stimulation levels ranging from 1 to 100 and a boost stimulation level range of 1 to 60. You can charge this collar entirely in just two hours. This product is ideal for those with small hands or those training in public because it is a smaller "stopwatch" transmitter that you can hold discreetly. The stimulation produces a tapping sensation similar to ordinary vibrations but more intense, which makes it more effective.
E-Collar Technologies, a leader in the electric training collar sector, developed this collar.
Key features:
Cutting-edge ergonomic design that allows you to keep a constant eye on your dog without bothering to stare at the transmitter
Compact transmitter ideal for discreet circumstances and small hands
LCD
Tapping sensation similar to vibration
Pavlovian tone
Waterproof and shockproof transmitter and receiver
Lithium polymer battery
Pros:
Impressive range – superior to many others
Durable
Efficient and adjustable stimulation levels 1-100
Boost stimulation 1-60
Powerful vibration
Option of Pavlovian conditioning
Cons:
Not suitable for small dogs (less than 20lbs)
No tone or vibration settings (instead, tapping sensation included)
#2. Sportdog 425 Remote Trainer
The SportDog Field Trainer 425 is one of the most excellent dog training collars available, allowing dog owners to maintain control of their dogs when out in the field. The collar has the most advanced and latest technology with a 500-yard range. This feature makes it easy to train dogs without having to stand directly by them.
You can efficiently train your dog with this excellent shock collar. Even though you get only one collar, the receiver can use up to three additional collars to train three dogs at once. In addition, the collar is waterproof up to the depths of 25 feet. You can also adjust the collar to accommodate a dog with a neck circumference of up to 22 inches.
Key features:
Impressive 500-yard range
Waterproof transmitter and collar
Long-life battery
Each transmitter unit can function with up to three collars.
Adjustable prong settings make this a fit for different size necks
Vibration, tone, and stimulation modes
Seven stimulation settings to ensure that you offer the bare minimum level of correction needed.
Pros:
Effective
Waterproof
Long battery life
21 stimulations levels plus tone and vibration
Lightweight receiver
The remote can pass on signals to three collars at once
Cons:
Moderate range
Not advisable to be used for dogs less than 8 pounds
Giant dogs(neck sizes more than 22 inches) may not fit.
#3. My Pet Command Dog Training Collar
The My Pet Command Long Range Remote Trainer is the ideal training aid and solution for you. Waterproof collars, electrostatic shock and vibration modes with ten customizable levels, as well as an audio tone warning mode, are all included in this High-quality Training Kit. In addition, because of its simple form, it is ideal for special training.
With a range of up to 1.25 miles (6600 feet /2 kilometers) on open ground, you can effectively train your dog. The collar is not just waterproof but also highly durable. You can use it with up to three dogs with one remote.
It is suitable for dogs having neck sizes 21-68 cm. For greater night visibility, the collar comes with a LED flashing beacon function.
Key Features:
Beep, shock, and vibration mode
1.25-mile range
Waterproof
Ten levels of shock and vibration
Multi-dog use
Pros:
Long, effective range
100% safe
Waterproof
Night-friendly
Remote compatible with up to 3 collars
Cons:
Comparatively low battery life
It takes a longer time to charge
Big remote size
#4. PetSpy P620 Dog Training Shock Collar
The PetSpy P620 could be an excellent option if you seek an economical remote training collar with a long range. These features make this collar ideal for both daily pet owners and expert trainers. The collar's blind operation design makes it simple to operate. It lets you concentrate on your dog rather than staring at the remote each time you want to discipline him. In addition, all the buttons are easily distinguishable by touch. So, you'll be capable of giving your dog undivided attention within a few minutes.
The PetSpy Premium Dog Training Shock Collar is a boon to trainers. Those who understand the value of style and design choose this product; otherwise, such structure is only available in expensive collars.
The remote has an impressive range of 650 yards. In addition, there are three different training modes to choose from, with each having 16 levels of intensity. PetSpy P620 is the best shock collar for large dogs we've found, and it deserves to be in the top collars of our list.
Key features:
650 yards range
Blind operation
Quickly charges
Can train two dogs easily
Three modes: tone, vibration, and beep
Waterproof receiver and remote
Pros:
Easy to use
Non-slip material
Durable
Affordable
Useful blind operation feature
Contact points made of constructive rubber which minimizes skin irritation
Cons:
You can train only two dogs at the same time
Sensitive connection points
Not suitable for small dogs
#5. Bousnic Dog Shock Collar (10-120lbs)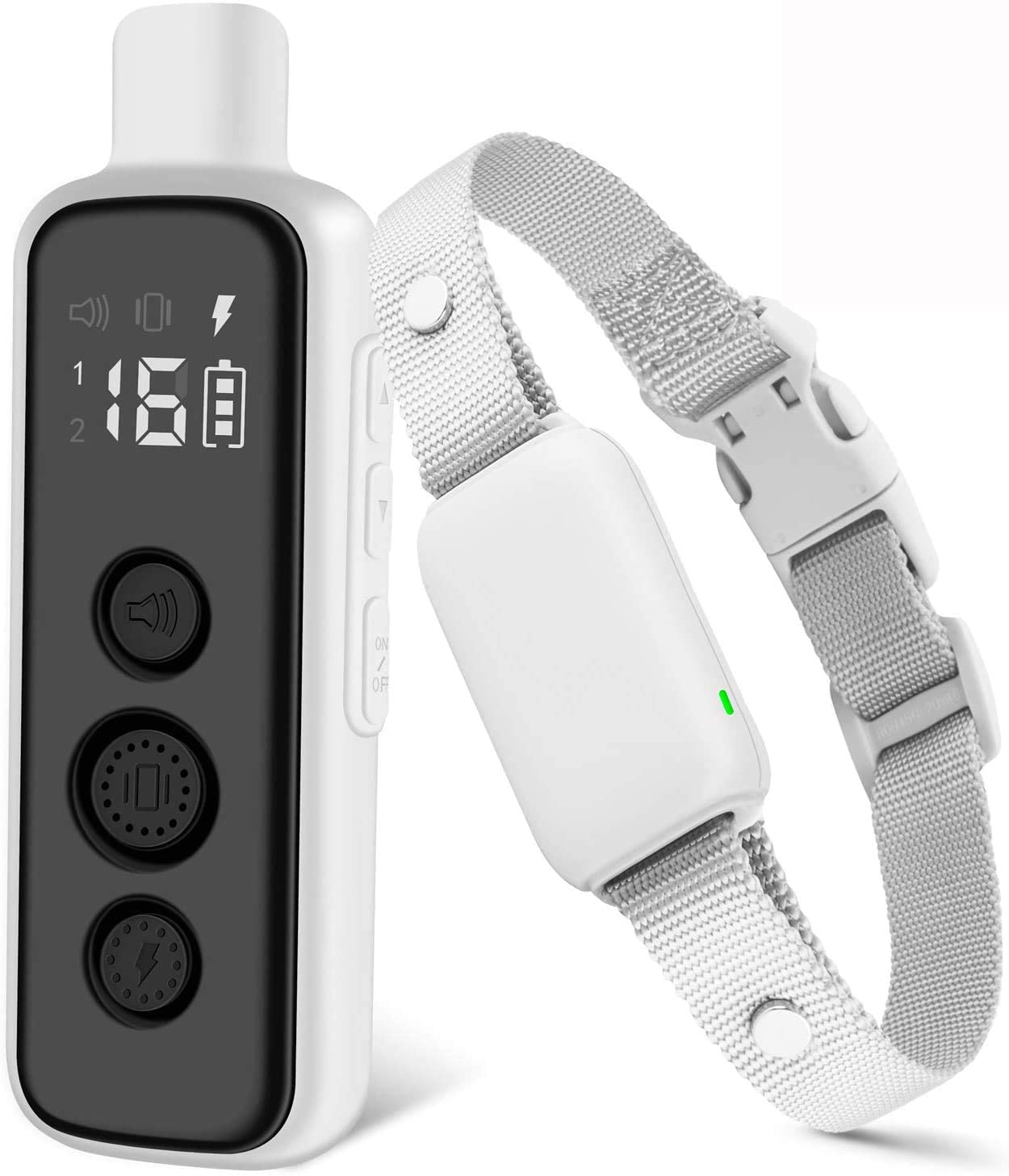 This e-collar operates in three modes: beep, vibrate and shock. There are three indicator lights present – green, orange, and red, which help you distinguish the mode of operation. The range is 1000ft, and it is IP*7 waterproof. It fits perfectly against the curvature of your dog's neck because it is smaller, thinner, and lighter. The remote contains two channels for training two dogs at the same time. This high-quality nylon collar adjusts from 7″ to 27″ and is suitable for dogs of all sizes (10-120lbs).
The beep/vibration/shock modes on the Bousnic dog training collar with remote are gentle, effective, and safe. You have complete control over what best fits your dogs. It offers 16 different shock intensity levels to choose from. The range of the remote is 1000ft, and the signal is consistent and robust. The Bousnic electric collar is waterproof to IPX7 standards. It is suitable for all types of winds and weather. Even if your dog swims in the sea, lake, or pool, the receiver functions perfectly.
Key features:
Fast charging
Durable
Humane and effective training modes
Lightweight receiver
100% waterproof
1000ft control range
Suitable for dogs in field 10-120 lbs
Pros:
Security keypad lock
Stronger signal
2-hour quick charging
Adjustable collar length
Sleek design
Cons:
The remote is not waterproof
#6. PatPet Dog Training Collar
Most people who use shock collars complain about the over-sophisticated or complicated remotes making them challenging to use, especially in time-critical situations. The PATPET Training Collar keeps things simple with large, easy-to-find buttons for different vibration modes, tone, and stimulation. This collar can function up to 7.5 days on a single charge at a range of 1,000 feet.
You can pick among 16 stimulation levels and eight vibration intensities to meet your dog's needs while training him. In addition, the collar receiver is waterproof so that you can use it in the rain. It has ​​an IPX7 waterproof receiver and an IPX5 rainproof remote.
PATPET dog training collar with a beep, vibration, and adjustable 1-16 shock levels efficiently trains your dog and eliminates negative behaviors. Begin with a low level and work your way up to the ideal setting for your dog's temperament. This collar uses RF 434Mhz technology and provides a range of up to 3000 feet. In addition, its long battery life ensures excellent dog training in the great outdoors.
Key features:
Double protection design
Waterproof collar and receiver
3000 ft range
Three training modes
Blind operation
Pros:
Durable
Suitable for all size dogs
Double protection design
Blind operation
Waterproof
Cons:
A good range for grounds and cities but not farmhouses
#7. Lu&Ba Dog Shock Collar
Lu&Ba's dog shock training collar has three effective and reliable training modes: beep, vibration, and safe shock (adjustable 1-16 levels). These modes can effectively assist you in training your dog to behave appropriately by correcting involuntary behavior problems.
Unlike others, the collar battery provides a longer run time. The receiver can work for 11 days after a full charge of 2-3 hours, and the remote can work for 27 days after a full charge of 2-3 hours. Make sure that you charge the collar for 4 hours the first time you use it.
The receiver is smaller, lighter, and thinner. The nylon collar is adjustable from 10 to 30 inches, making it suitable for small, medium, and large dogs (15-100lb).
The receiver is waterproof to IPX7 standards. Therefore, your dog can use it on a rainy day or in any moist or wet environment without causing damage to the receiver. However, because the remote/transmitter is not waterproof, use caution when using it near water.
Key features:
Three training modes
Waterproof receiver
1000 ft remote range
Special metallic shock contacts
Blind operation
Pros:
Effective and humane
100% safe 
Suitable for dogs of all sizes
Specially configured shock contacts
Durable
Also Read: Why Is My Dog Shaking After Grooming?
#8. Bousnic Dog Shock Collar with Remote (8-120lbs)
It has three modes of operation: beep, vibration, and shock (1-16 levels adjustable). You can choose what best suits your dog's needs. This e collar has a remote training range of approximately 1000 feet, which is quite an impressive range. It makes use of lithium battery technology, which ensures a longer battery life. Furthermore, it just takes 2-3 hours to charge fully. However, when setting it for the first time, make sure you charge it for 4 hours. The collar and the receiver are waterproof. However, the remote is not. So you need to use it with caution when near water.
The Bousnic e collar is smaller, thinner, and lighter so that when you're out for a stroll, it won't be a burden to your dog. The tiny receiver fits perfectly to the curvature of your dog's neck thanks to its precisely designed form. Additionally, conductive silicone points with conductive rubber coverings offer extra protection against discomfort.
The collar can quickly charge within just 2 hours. There is also a battery indicator, so you don't run out of power again. A clever security lock prevents accidental events and protects your dog. The remote has been ergonomically built to fit comfortably in your hand and is easy to carry. This e-collar is undoubtedly one of the best shock collars for large dogs available and is ideal for your best furry friend.
Key features:
Fast charging
Durable
Humane and effective training modes
Lightweight receiver
100% waterproof
1000ft control range
Suitable for dogs in range 8-120lbs
Pros:
Security keypad lock
Stronger signal
2-hour quick charging
Adjustable collar length
Sleek design
Cons:
The remote is not waterproof
#9. Invirox Dog Training Collar
It offers more than 100 levels of training and an extensive range of 1100 yards, allowing you to train your dog in any indoor and outdoor situation. In addition, you can adjust the stimulation level on the INVIROX dog shock collar to the optimal level for gently communicating with your furry buddy. It is lightweight and ergonomically designed, equipped with a waterproof receiver. It is suitable for dogs of size 8-110 lbs and neck size 11-23 inches.
The waterproof receiver on the Invirox shock collar is made of high-quality stainless steel elements, making it highly durable. Furthermore, it has a discreet design with a keypad lock mechanism which helps to prevent accidental operation. You can adjust the stimulation to the optimal amount for gently communicating with your dog.
All these features make the INVIROX Dog shock collar the best shock collar for large dogs and a fantastic training tool.
Key features:
123 training levels
Suitable for 8-110lbs size dogs
100% waterproof
3350ft range
Three modes: beep, vibration, and shock
Pros:
High-quality material
100% waterproof
Multiple training modes
Long-range
Good battery life
What Are Shock Collars?
A shock collar is a training collar placed around the dog's neck and comes with a shock function. It delivers a static shock whenever the dog misbehaves.
You got a dog at home, which is now a part of your family. Next, you want to train them and make them intelligent dogs. First, however, intelligent dogs need intelligent tools. Shock collars are one such device that is extremely useful when dealing with training large dogs.
You must be wondering about other functions, advantages, disadvantages, and the best shock collar for large dogs. So come, let's discover!
How Do Shock Collars Work?
We've discussed what dog shock collars are, but how do they work?
Shock collars for dogs send an electrical stimulus to their body. The purpose is to frighten them and prevent them from performing whatever they're doing. There are different types of collars available to serve the purpose depending upon which are several sorts of stimulation delivered. These simulations can be visual, aural, static current, or vibration.
The collars can also be designed or configured for automatic activation. For example, your neighbor is complaining about your dog's persistent barking. You can program the collar to identify your dog's bark and have it activated whenever they do so.
These shock collars include an electric unit mounted on the collar and a portable remote control that allows you to trigger the shock collar whenever required.
As discussed above, other forms of stimulus are available to use while training your dog. They nevertheless work the same way – if your dog disobeys, you may use an incentive to help them get back on track.
You must note that delivering an electric shock to your dog's body should be your last choice. You must try other forms of stimulus before as they are adequate to manage your dog at first. The best shock collars for large dogs available on the market today will have more than one mode of stimulus.
Remember to Use with Responsibility
You must ensure that you use shock collars only to train your dogs, grab their attention, and not punish them. The purpose is only to stop them from misbehaving and not hurt them or cause them pain. Therefore, you must turn it off entirely or reduce the intensity once your dog starts to behave normally again.
It would be best to place the collar properly, and the training session should last no more than 15 minutes.
You May Also Read: Guide To Choosing A Dog Diaper For Your Dog
Advantages and Disaadvantages of Using Shock Collars
Advantages
Training your dog without using a shock collar will be a slow process, time-consuming and daunting. Alternatively, if you use a shock collar for training a large dog, it will be much easier and faster.
What's more? If you use the shock collars equipped with a GPS function, you will not have to worry about losing your dog as you can easily track him down.
So, if you wish to train your large dog efficiently, I believe you must use a shock collar!
Shock collars were once considered a unique tool that you could only purchase for a high price. However, this type of device is no longer pricey. Because there are so many different shock collars for dogs on the market, most of them are relatively reasonable.
Gentle training approaches may not work with aggressive dogs. However, you will need to work with the best shock collars for large dogs to curb aggressive behavior. It will even work when you aren't around. Whenever they engage in aggressive behavior, they will receive a clear indication to stop them from whatever they might be doing.
Helps When Verbal Commands Fail
You might have a large dog who does not respond to your voice commands or who is just unable to hear or listen to the instructions at all. In such cases, a shock collar could be an excellent approach to let them know what they shouldn't do.
Disadvantages
Of course, like everything else in this world, even the best shock collars for large dogs will have their own set of pros and cons. We have already spoken about the advantages they offer. Now let's see what some of their disadvantages are.
Most dog owners can't imagine inflicting harm to them. Even if you have control over the severity of the treatment, you are still engaging in unpleasant behavior change. Many owners prefer positive reinforcement as a method of behavior change.
The Fear: It Can Be Dangerous for Dogs
I am sure you never want to train your dog in fear. But, unfortunately, some dogs may develop a phobia of people, things, or circumstances associated with the collar due to shock training. This development of anxiety in dogs can be dangerous.
Unintentional Over-Correction
Some shock collars may send the electric impulse inadvertently or too frequently if you are not present to manage when they are delivered. This unneeded shock may cause your dog to become confused by "fixing" a problem that did not exist in the first place.
Despite these cons, responsible and effective use of shock collars is a fantastic way to train large dogs.
Things to Consider While Buying a Shock Collar
Following are a few things you must look for while buying the best shock collar for your large dog –
1. Multiple Simulation Modes
Many shock collars have two or three additional signaling types in addition to the electric shock. Therefore, it is advisable to seek a collar with multiple modes because the goal is, to begin with, the least dangerous training methods. Then, of course, you can try another if that doesn't work, but delivering shock must be the last resort.
2. Simulation Levels
One of the most striking aspects of today's modern shock collars is the flexibility to personalize the degree of stimulation provided to your dog by the collar. In addition, these collars have different stimulation levels allowing you plenty of time to work with your dog before reaching the maximum amount of shock.
3. Waterproof
It would help if you opted for an entirely waterproof collar. Dogs love being outside regardless of the weather. So when buying a shock collar for your dog, make sure it can withstand all types of weather and won't break when it rains.
4. Comfortability
It is critical to get a comfortable shock collar for your large dog. However, you must also take care of the material and ensure that it does not cause harm to your dog's neck.
5. User-Friendly
For any owner who has never used a shock collar before, buying easy to use is crucial. Check that the collar comes with a comprehensive instruction booklet, as well as labels and buttons. These will allow you to quickly modify the amount of the shocks to ensure that you are not injuring your dog.
Conclusion
The concept of training your dog with shock collars remains controversial. That is because you deliver a static shock to your dog's body without knowing how your dog is experiencing that or how much harm it is causing. However, with so many innovative and modern dog shock collars available today, there are a variety of modes integrated into the collar to support your dog's training session. Shock collars are helpful for obedience training, teaching dogs not to bark, and keeping them inside the confines of your home. Still, you must use them carefully to keep your dog happy and healthy.
Happy Training!
Heather Abraham is a professional blogger who owns two dogs, a cat, a parrot, and a leopard gecko. She has a connection with animals since she was a child. She shares her love for all pet breeds and provides information on pet food, toys, medications, beds, and everything else.
She is committed to learning about the internal workings of animals. Her work permits her to work closely with knowledgeable vets and obtain practical expertise in animal care. When she is not working, her love of animals continues in her writing. Her goal is to educate and uplift readers who also have a passion for animals through her writing.