Have you a chunky woofer who just loves to destroy any toy you get for them? I know what boat you're in because I am in the same one. Every time I buy my pup a supposedly tough toy, it ends up in the trash within just a day.
But that doesn't mean I can keep my little guy deprived of all the fun. So I checked out some highly rated and popular indestructible dog toys. And based on my research, I found 6 best, which truly last long, even for the toughest chewers.
So check them out below, and see for yourself why they're worth your money.
Goughnuts Virtually Indestructible Ring Durable Dog Chew Toy
Our Top Recommendation for Indestructible Dog Toys for Toughest Chewers!
The Goughnut chew toy is an excellent option, no matter which breed of dog you have. It lasts long and is made of non-toxic rubber. At the same time, many buyers have vouched for its quality and the brand's excellent customer service. So you can go for this all-rounder without a doubt!
*We earn a commission if you make a purchase, at no additional cost to you
Six Indestructible Toys For Your Dogs
These toys meet your pet's requirements and can elevate their mood quickly. They are also toxin-free and very healthy to play and chew around. Plus, as promised, they are indestructible to a large extent. Keep scrolling down to know more about some of them.
1. Goughnuts Virtually Indestructible Ring Durable Dog Chew Toy
It is Guaranteed for Life – Strong, Tough Rubber Chewing Toy for Large & Aggressive Power Chewers Like Pitbulls, German Shepherds, and Labs.
Goughnut is a chew toy designed to last really long. There is a reason why Goughnuts are one of the most popular chew toys available for dogs. I have used it many times for my dog, and it chose to stick with my little boys' antics. This toy suits all dogs, no matter the size or the aggressiveness of their chewing.
Features
Resembling doughnuts, as their name indicates, Goughnuts are made of specially reinforced natural rubber, making sure that your dog can chew on it for as long as it pleases.
Coming with a variety of options to choose from, Goughnuts ensures that the uniqueness of the toy is at par with the uniqueness of your little guy.
Something that lasts a lifetime, Goughnuts save you a lot of time and money that would otherwise be spent replacing the broken toys. So, if you're looking for something that your dog can enjoy for a long time and is hassle-free, you've found the right one.
Goughnuts are made from reinforced natural rubber. It is designed by the smartest of engineers. As it is made of specialized rubber for spacecraft, the product lasts long.
There are many options to choose from when you select Goughnuts. It will fit your dog's temperament and can suit its aggressive nature. Every dog is unique and needs a toy suited for its habits. Goughnuts, make sure to provide you with that option.
Goughnuts are designed to be played by all kinds of dogs. Their lightweight and indestructible nature ensures that your pet doesn't have any trouble running around with them. Even though bigger sizes are available for bigger dogs, the average size is made for the convenience of all dogs.
Pros
It lasts much longer than an average chew toy.
Variety of choices to select from.
Compact nature.
Cons
Hard to keep it clean from the odor of rubber from chewing.
2. Tikaton Real Beef Flavor Durable Dog Teething Chew Toys Bones for Large / Medium / Small Puppies
Chew toys helped my dogs in many ways, including giving importance and protection to their dental and mental health. It reduced their anxiety and helped improve their gum strength.
Made of rubber as raw material, the Tikaton natural beef chew toys were something that saved me from a lot of trouble. They helped my young boy chew on something as long as it liked without getting damaged in the process.
This pocket-friendly chew toy will not only help your dog with its anxiety, if any, it will also help distract the pet from more dangerous and expensive habits like destroying your couch (mine almost did).
Features
Reduces the Anxiety of Your Teething Young Lad
Go no further if you're looking for the perfect chew toy that comes with several benefits. It will also help reduce your dog's barking habits. Also, it can be made to your dog's liking as it comes with an option of personalization.
This particular toy is made up of real beef. So it will keep the dog occupied and engaged longer. The bone-shaped toy provides a choice for the dog to play with. It serves as a chew toy and something that the dog can play chase with.
This toy is designed to help the larger breeds of dogs with anxiety and works pretty well in doing that. It enables the dog to develop a healthy chewing habit. It's beneficial for their mental state as it calms them down by distraction.
Made with exceptional quality real fresh beef and designed to clean the dog teeth with each chew, this product helps keep the mouth of the dog spotless. This reduces daily flossing in the dog and massages the gum, which benefits the dog.
Pros
Several types to choose from.
It helps distract your dog from dangerous habits.
Both mental and physical benefits for the dog.
Designed to function without the unpleasant odor.
Cons
For continuous and heavy usage, it becomes stale and brittle after a long period of uselessness.
3. KIPRITII Dog Chew Toys for Puppy – 18 Pack Puppies Teething Chew Toys 
Dogs are, by nature, curious animals and don't waste any time sitting idle. It's vital to provide them with enough distractions in exercise and other suitable activities. The KIPRITII toys act as an excellent activity and a great distraction.
Features
KIPRITII dog toys come in a packet that contains many toys. All of them vary from one another, giving you and your dog ample choices. My friends who suggested this have been using the set for quite a long time.
The rope toys and the IQ balls that the packet contains helps challenge the dog mentally, keeping it active not only physically but mentally too.
Easy to use and made to use both outdoors and indoors, KIPRITII also helps with puppy teething, offering a companion for your dog from an early age. Made out of high-quality natural rubber and designed to last, this one offers longevity and value for your money.
KIPRITII uses natural rubber without any artificial modification that could harm your dog. The use of natural rubber also promises safety to nature and promotes the ecological objectives of the brand.
This helps keep the dog busy and engaged throughout the day and in the puppy's training from a very young age. The IQ balls also help with the dog's intake, making sure that the pet doesn't go after an unhealthy diet all on its own.
KIPRITII toys come in a pack of 18. All of the toys can be used to help your dog. And each one is different from the others. The package contains nine different rope toys, 2 IQ balls, and multiple squeaky chews toys.
The chew toys that come along with the packet are designed so that it cleans the mouth of your dog with each chew. The more it is chewed by the dog, the cleaner the mouth of the dog will be. The tartar buildup in the mouth is chewed away through these toys, making your dog healthier.
The pack containing training toys helps you train the dog, not just for proper behavior but even to respond to commands. This makes training easy and enables you to relieve yourself of searching for a trainer.
The products are tested under rigorous conditions to ensure that every toy that reaches the hand of the customer is nothing but top tier.
Pros
It is environmentally friendly.
It is highly durable and affordable.
A variety of options to choose from
It helps with dog training.
Designed for both outdoor and indoor usage.
Easy to use.
Cons
The product has 18 toys that come with it. If you don't need that many toys for your buddy, this one might not be a great choice.
4. LUKITO Dog Chew Toys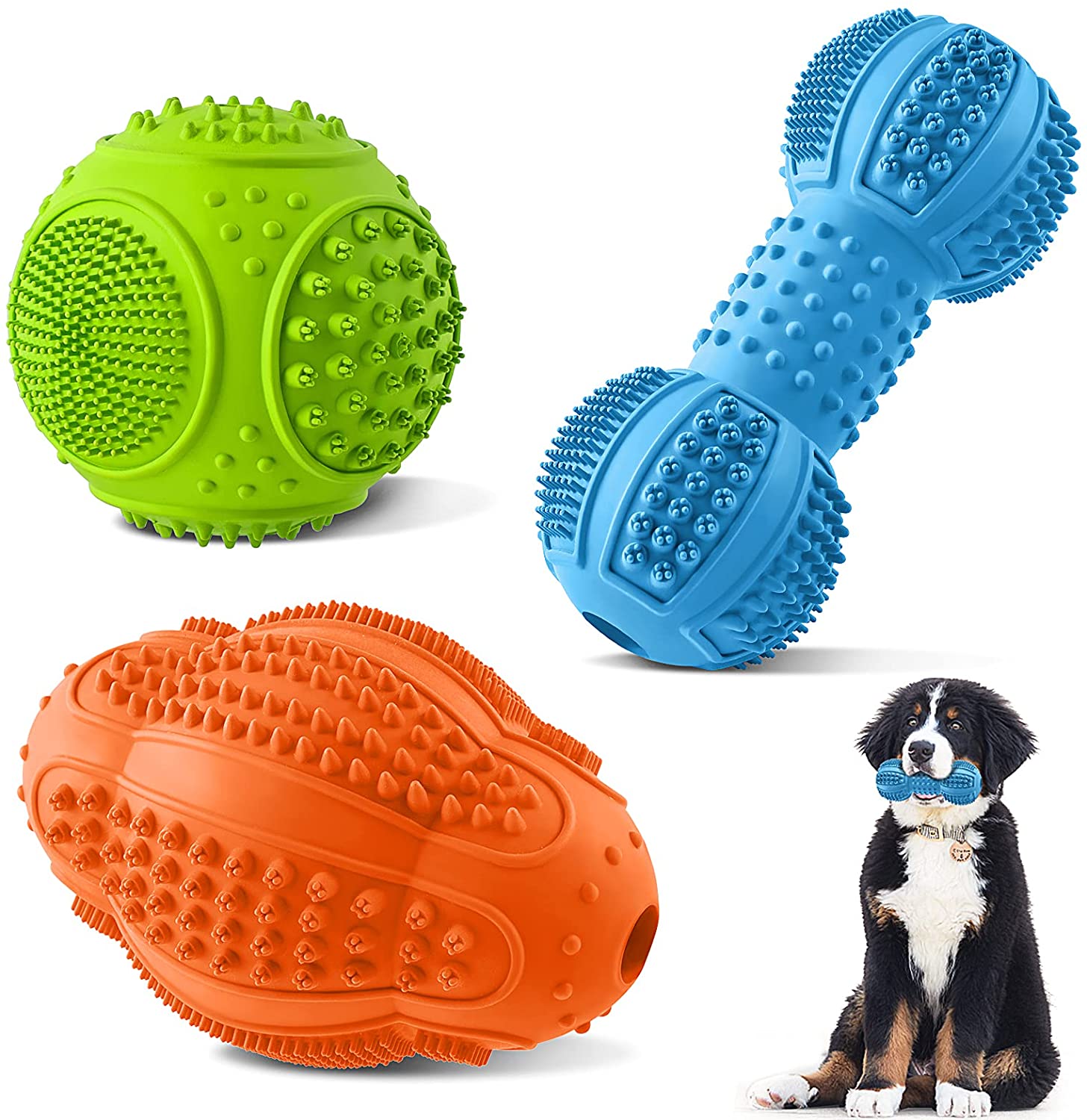 LUKITO Chew toys are something that is found universally in a dog owner's home. Just visit mine, and you will see. The quality of the chew toy is affected heavily depending on the type of breed.
Smaller breeds don't necessarily require a giant chew toy to keep them busy, while the larger breeds can't keep a smaller chew toy intact even for a few hours.
LUKITO chew toys are helpful for dogs, no matter the size or the breed. Even though the toys can be used by small dogs, the product is made for larger dogs.
It is designed in a specific way, one that helps it survive the harder impacts that it gets from the breeds with the most aggressive behavior.
It is also easy to use and easy to maintain. The cleaning process of these toys hardly takes 5 mins and is pretty straightforward.
Features
You Have a Money-Back Benefit
The 30-day money-back offer that the company provides shows how much the product's durability is guaranteed and how many tests the product has been through before it hit the shelf.
LUKITO chew toys come in three different shapes, ensuring that your dog doesn't lose interest in the toys. You can replace or interchange one with the other if the pet gets bored of the first.
LUKITO products are made with different molar bumps on top of them. This ensures that your dog's teeth stay clean as it chews down on the toy. Along with cleaning the teeth, it also massages the dog's gums, ensuring it stays healthy even after a heavy chewing session.
The products are designed to last long. They can endure even the most aggressive chewings. No matter the breed or the amount of chewing they are subjected to, LUKITO toys retain the quality and remain tough to destroy, even for the most formidable chewers.
These toys are not only easy to clean but also to maintain. With minimal attention required to keep intact the quality, these products offer an easy way out of the maintenance of dog toys.
It takes nothing more than a proper rinse to clean the product. Since the quality of the product is exceptional, it hardly requires any special attention post a wash.
Pros
Healthy for the dog.
Interactive.
Specialized for outdoor usage.
Easy to maintain.
Affordable.
Cons
Not as durable as the other indestructible chew toys on this list.
5. goDog Dragons Skinny Squeaker Dog Toy
Exercises assist in channeling your pups' riled energy effectively. If you are not giving your dogs appropriate games, they might just turn sad. But with goDog Dragons Toy, you can keep them engaged. These toys last longer and will get through continuous and relentless chewing that more enthusiastic breeds can subject them to. That too, without even a scratch on them.
Features
One of the Most Handy Toys
I found that these are pretty handy to get and equally easy to maintain. Make sure you keep them clean and ready for your dogs when they are bored on a sunny morning. Give it to them, and your job is done.
This Dragons Dog Toy has a long, thin body of green textile material with textured bubble plush. It is best suited for your dog's fun expeditions.
Your dog will enjoy our incredibly soft toys since they are attached to a squeaking voice maker in the body that makes squeaking noises making your dogs more and more intrigued.
Despite having a soft outer body, the inner part is harder and sturdier. It lasts longer, thanks to the chew-resistant lining and reinforced seams.
Pros
Made With Canine-Friendly Material.
Easy To Wash.
Long-Lasting.
Weather Resistant And Dust Resistant.
Cons
The only con I found for this toy is that they aren't as chunky as some chew toys, and some dogs might not like that.
6. Benebone Real Bacon Durable Wishbone Dog Chew Toy
Made especially for those giant and aggressive chewers, the Benebone toy can be a real catch for people with big and active dogs. I would highly recommend this one if you're looking for an option that survives your big guy's blows.
Features
Real Bacon Is The Game Changer
This toy comprises 100% real bacon, making it legitimately one of the best and most fun chewing options for your four-legged kid.
You can use it to play interactive games both indoors and outdoors, as far as I know. These toys enhance the social experience of the dogs, making sure that the dog is not being subjected to various disorders like anxiety and depression.
With the authentic bacon material comes the promise of longevity and durability both. These toys can withstand anything. Many buyers are smitten at the long life this toy has.
The best quality assurance is that the product is entirely made up in the USA and, therefore, one of the most trusted. It isn't a cheap knockoff containing any toxic materials. And you can be sure of that once you check out the safety certifications.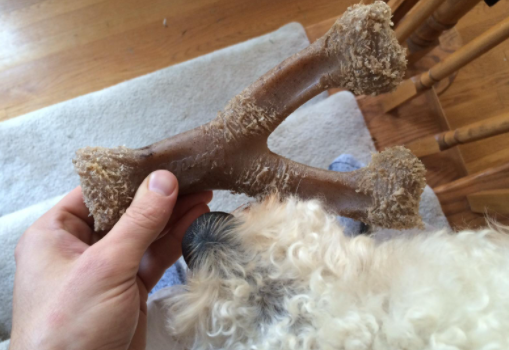 Pros
Made with 100% real Bacon.
Easy and delicious to chew.
Quite engaging for aggressive dogs.
Longer lifespan.
Cons
The product's price can err on the higher side. But its long life makes up for the steep cost.
Why Do Dogs Need a Durable Toy?
As a proud dog parent, I know how dogs, much like us, get bored quickly and need a release. Like us humans, they essentially need to invest their heart, body, and emotions in combating boredom. Long story short, boredom stalks both people and our beloved canines, and we both require considerable attention and recreation.
Even though I take my dogs out, play, and invest all my time and affection in them, they still just want to try something new or just seek some other ways of engagement.
Owing to our hectic lifestyle and personal cum professional obligations, we might just be busy when our cute puppies are in desperate need of some playtime. That's where the toys and other recreational items come into the picture.
Our dogs need the best toys out there in terms of longevity and quality. Their toys aren't particularly unique but also need a long life to withstand the quirks of our four-legged trouble makers.
As a dog owner, I must admit that one of the easiest ways to engage your dog is to give it a chew toy. But sometimes, this can be a pain as the dogs tend to chew through the toys way faster than expected.
So finding them a truly long-lasting toy is critical to keeping your wallet full. Otherwise, you will regrettably end up spending too much money on toys.
Conclusion
These toys mentioned above are some that I found best suited for my woofers. They are not only a great way of venting your pet's energy out but are also entertaining. So go ahead and buy the toys you think fit your dog the best. But make sure you don't just depend on these toys to keep your little one entertained. Spend quality time with them, and give them all the attention they deserve.
Elena Gherman is a highly skilled and knowledgeable animal care expert. At the start of her career, she gained practical expertise with multiple animals. In addition to that, she works as a DVM veterinary editor for Joy Pet Products, which focuses on offering reliable information on pet health and wellbeing. She meticulously reviews each piece of writing before it is published to make sure pet owners get the most precise and updated information possible.