While dogs generally live for between 10 and 13 years, some dog breeds tend to have shorter lifespans than others.
These dogs also tend to be larger in size.
Why do larger dogs live shorter lives?
There's a theory that larger dogs live shorter lives because they develop faster than smaller dogs, and this causes them to age faster.
With that in mind, here's a rundown of seven dog breeds with the shortest lifespans. If you own one of these dogs, make sure that you give them the best life possible – remember, it's not about how long they have to live but how happy and healthy they can be in the time given to them.
If you'd like to see a graphical breakdown of the short lifespan dog breeds, we got you covered:
Share this Image On Your Site
French Mastiff
This dog will only live for between five to eight years! It's said that because it has a brachycephalic face (squished features), this is said to put it at a disadvantage. Dogs with these features tend to have health problems, such as when it comes to respiratory issues.
This dog breed also has compromised heart health and cannot handle very hot weather. Sadly, this dog breed is one that experiences a high number of stillbirths. That said, the French Mastiff is a loving, protective, and affectionate family dog that's a joy to be around.
Bernese Mountain Dog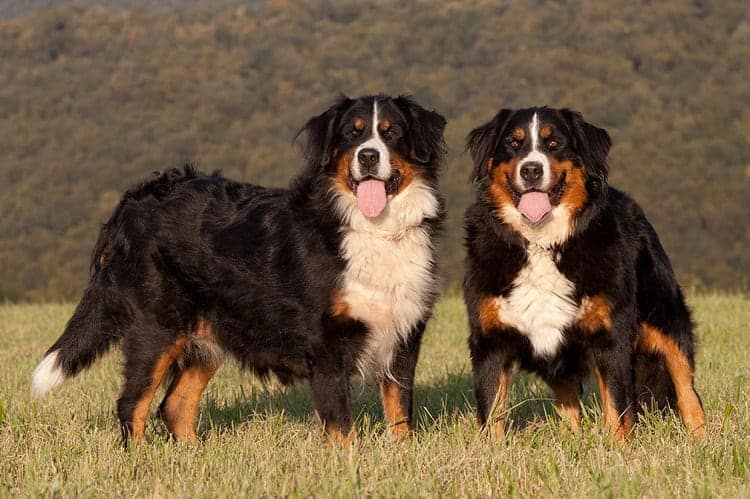 The Bernese Mountain Dog is so cute. It looks like a version of the St. Bernard and has a lovely personality. It's intelligent, friendly, and very loyal. Unfortunately, this dog only lives for about seven years.
This is said to be as a result of how this dog breed has been inbred, which has led to a range of health problems.
Great Dane
These majestic dogs can live for between six and eight years. One of the biggest health problems that they experience is bloat. This is when the dog's stomach twists and prevents blood supply to other organs.
It can be life-threatening so it requires emergency medical care. Great Danes are regal pets but what's often not known about them is that they love to cuddle.
Irish Wolfhound
This dog has a similar body to a greyhound. It's muscular, graceful, and sleek. However, its life expectancy is only between six and eight years. Irish Wolfhounds are gentle and friendly, which makes them excellent pets to have around kids.
Although they need daily exercise, they also love to lounge around and relax, making them the perfect companion on lazy days.
Rottweiler
These dogs make great watch dogs because of how attentive and courageous they are. They're also very loyal, even though they're usually misunderstood.
This strong dog is known for being a wonderful therapy dog! Its life expectancy is between eight and 10 years, and it is susceptible to many health problems, such as cancer. Thanks to their obedient nature and intelligence, Rottweilers are really easy to train. They really have lots to offer.
Newfoundland
These dogs are intelligent and sweet, but they will only live up to between eight and 10 years. This is due to various health problems, such as heart disease, which makes it even more important to ensure that you give your Newfoundland pup a healthy lifestyle.
Newfoundland dogs look like giant teddy bears. They need lots of food during the first year of their growth, during which they can gain up to 100 pounds!
Scottish Deerhound
The Scottish Deerhound can live for up to 9.5 years. It's easy to forget about that due to how energetic it is.
It's worth bearing in mind that the Scottish Deerhound needs a lot of attention and is prone to experiencing separation anxiety. These are friendly and sensitive dogs that will love being around the family.
How Body Mass Affects Dogs' Lifespans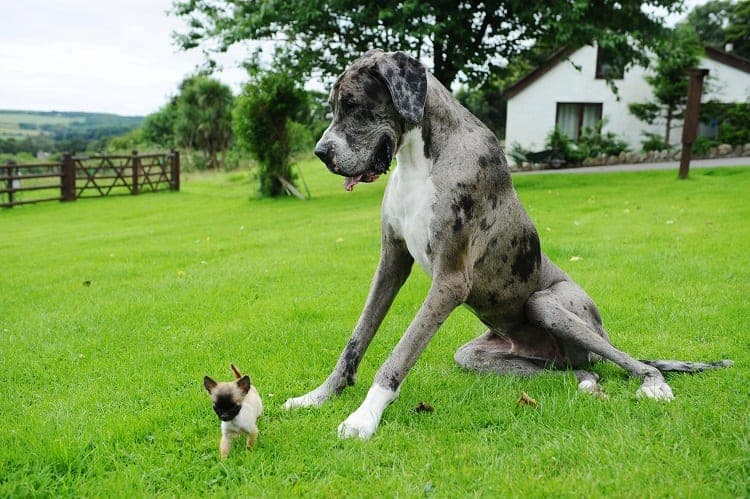 There's a correlation between dogs having shorter lifespans and their body mass.
Researchers from the University of Göttingen in Germany conducted a study that was published in American Naturalist (via Psychology Today) that found for every increase of 4.4 pounds in a dog's body mass, there was the loss of roughly one month of life expectancy!

Since they grow faster, this makes larger dogs also age faster as compared to smaller-sized dogs. Research reported by Mental Floss found that larger animals will die at younger ages because their accelerated growth increases free radical activity in the body.
What Can You Do To Extend Your Dog's Lifespan?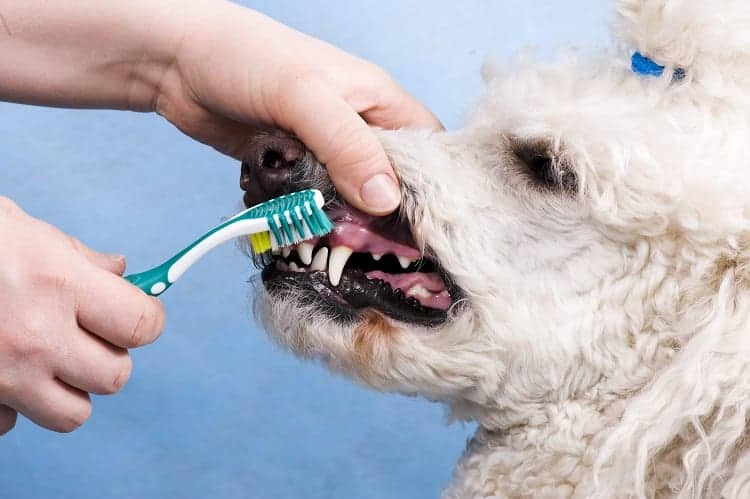 While you can't always make your dog live a longer life, there are ways in which you can keep your dog as healthy as possible so that it can avoid illnesses. Here are some good tips to follow.
Feed your dog a healthy diet: While a nutritious diet won't necessarily help to make your dog live longer, it's a crucial element of keeping your dog as healthy as possible by giving it the nutrients it needs. The best thing to do when choosing what food to feed your dog is to chat to your vet who'll be able to recommend the best quality food, while also taking your dog's breed and health into account.
Avoid obesity: Dogs that are overweight and obese are at risk of having more health problems than leaner dogs. Research that was published in the Journal of Veterinary Internal Medicine found that leaner dogs lived for approximately 18-24 months longer than overweight dogs. This really brings home the importance of feeding your dog healthy foods and avoiding overfeeding him.
Make sure you take your dog to the vet for regular check-ups: You should aim to do this twice a year as it will help to find any problems or conditions early on so that they're easier to nip in the bud, especially if your dog is susceptible to certain health conditions.
Let your dog get regular exercise: Take your dog out for walks on a daily basis. Just like with people, exercise can help dogs to stay healthy. It's good to help them maintain a healthy weight, lean body, and healthy heart! Cancer is the leading cause of death in dogs, and regular exercise can help to keep it at bay.
Brush your dog's teeth: If you don't keep your dog's teeth and gums healthy with daily brushing, this can cause health conditions such as periodontal disease. This bacterial infection can lead to heart disease as well as other organ damage, so it's a must to prevent.
Don't feed your dog human foods: Those table scraps that your dog loves so much can cause health conditions such as pancreatitis, while they're also linked to a lack of nutrition and weight gain. In addition, some human foods can be toxic to dogs. You might not even realize toxins are in the food you're handing your dog. For example, xylitol is a very poisonous toxin that can be lingering in food that you give your dog, such as jellies, peanut butter, and cereals.
Socialize your dog: The secret to a happy, long life isn't just about physical health but mental health, too. Just like humans, dogs can suffer from mental health issues, such as depression and anxiety, and it's been said that some of these issues can stem from dogs who aren't socialized. You want to ensure that your dog can have fun with other furry friends. And, of course, you should spend time daily socializing and having fun with your dog to keep him happy and healthy.
Related Questions
What dogs have the longest lifespan?
Small dogs such as Chihuahuas, Yorkshire Terriers, Pomeranians, and Pugs tend to have some of the longest lifespans. They can live for up to 15, and sometimes even 20, years.
Should you avoid dog breeds with short lifespans?
If you love a certain dog breed, go ahead and buy it or rescue it from a shelter. Give it the life that it deserves, filled with kindness and love. You should never avoid a dog breed because you want it to live a long time. All dogs deserve love!
Conclusion
Some dogs have shorter lifespans than others, and this is usually because they are afflicted with serious health conditions, but sometimes things like inbreeding can be the reason for their short time on earth.
In this article, we've looked at seven dog breeds that have the shortest lifespans. By knowing which ones they are and what health conditions tend to affect them, you can ensure that you keep your dog as healthy as possible so he or she can live a long, healthy, happy life!
Elena Gherman is a highly skilled and knowledgeable animal care expert. At the start of her career, she gained practical expertise with multiple animals. In addition to that, she works as a DVM veterinary editor for Joy Pet Products, which focuses on offering reliable information on pet health and wellbeing. She meticulously reviews each piece of writing before it is published to make sure pet owners get the most precise and updated information possible.