Are you a dog owner? Sssshhhh… We are about to tell you a secret to having a healthy pet dog. Curious to know what it is? Good diet, snacks, dog bones, and regular exercise! Yes, bones are an essential component of your dog's health and well-being. They can keep them entertained for brief periods while also assisting in maintaining their teeth. Unfortunately, there are so many different kinds of bones available in the market today that it might be challenging to choose the right one for your furry friend.
That's why you should always get only vet-recommended dog chews for aggressive chewers.
Since large dogs are more energetic and naturally stronger, they generate more bite force. So, you must buy a bone that can withstand such wear and tear for a reasonable amount of time. This article will tell you about some of the best dog bones for large dogs.
The Best Dog Bones for Your Furry Friends
Below are some of the bones that are in high demand. And yes, don't worry! They all are highly recommended by the leading vets too. So, here are our top picks for vet recommended dog chews for aggressive chewers:
1. Pawstruck 12″ Braided Bully Sticks For Dogs
It is not necessarily a bone, but it can still be your dog's favorite chewing pastime. This 12-inch long pizzle stick comes with a braided structure that gives a good surface for your pet to chew on. In addition, this stick comes with a robust design to help you maintain your dog's healthy chewing habits.
Its natural content will quickly make it your dog's favorite treat. Since dogs have a smaller digestive system, it doesn't contain any ingredients that can be difficult for your furry friend to digest. Not to mention, they are incredibly high quality with no added chemicals or hormones. Let's have a look at its pros and cons too.
Pros
It comes in different sizes.
It is 100% natural.
It is great for all dog breeds.
It helps improve the dental health of dogs.
It is made from only grass-fed beef.
Cons
Also Read: Puppy Feeding Tips And Tricks
2. SmartBones SmartSticks
The next on this list is yet another dog favorite. This treat comes in many different flavors. After all, it's not only humans that like great flavors- our dogs share the same interest. Apart from that, this treat is also made of your dog's favorite food like cheese, pork, beef, chicken, etc.
This is very good for your dog's dental health, with a great texture and even better nutritional content. Its fiber content aids your furry friend's digestion and overall better health. Let's look at this irresistibly tasty treat's pros and cons.
Pros
It is very high in nutrients.
It comes in 9 different flavors.
It has high fiber contents that improve digestion.
It comes in different chew sizes, depending on your dog's size.
Cons
Some of the flavors are a bit expensive.
The edible sticks are not very long.
Also Read: 11 Most Healthy Dog Breeds – Pals That Live Long
3. Jack&Pup Premium Grade Roasted Meaty Beef Mammoth Femur Bone Dog Treat
No matter how many treats you give your furry friends, nothing beats their love for bones. They are their best chewing buddies. This is why Jack&Pup is here to give your dog the best gift of their lives- their favorite bone.
Beef bone is the best dog bone for large dogs. The best part about this bone is that it is 100% natural grass-fed beef-bone. This makes it very nutritious and good for your dog's health. Besides this, there are many pros of this bone treat that your dog will surely like.
Pros
It is a 16″ long bone treat.
It is made of grass-fed beef.
It is delicious and great for dental health.
It is great for big dogs.
It doesn't have any repulsive odor.
It is high in protein.
It is easy to digest.
It comes with a delicious smoked beef flavor.
Cons
You need to make sure that your dog doesn't swallow big chunks of the bone.
There's a limit of bones you should give your furry friend to eat.
4. Nylabone Healthy Edibles Wild Dog Treat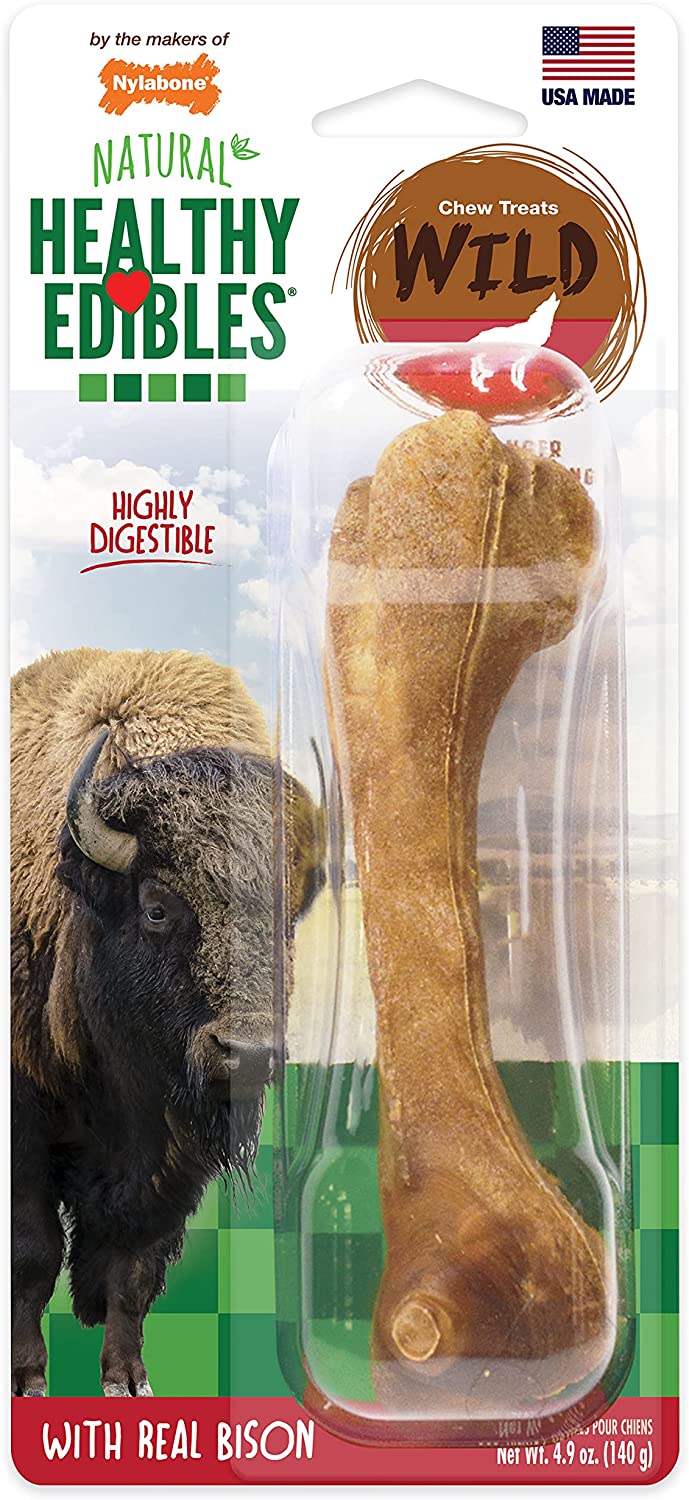 There's no denying the fact that dogs love bones to the death. No chewing toy or treat can take its place. As a result, Nylabone is here with a highly delicious bone treat for dogs. The best thing about this treat is that it is made of bison bone. Bison's bones make the best dog bones for large dogs. This bone has a high nutritional content. Along with that, it is incredibly delicious. So delicious that your pet dog won't be able to resist it.
Not only that, but it comes with many other great qualities too. And, don't worry, it is a very safe and reliable treatment. So, let's have a look at what it has to offer your dog.
Pros
It is made of bison bone.
It is available for all sizes of dogs, whether big or small.
It comes with a delicious taste.
Apart from bison, it also comes with turkey and venison flavors, all of them being real.
It is easily digestible due to its high fiber content.
It is made in such a way as to withstand long-lasting chewing.
Cons
It is pretty small in size. Measure only 7″.
It doesn't come with many flavors.
5. Purina Busy Bone Dog Chew Mini
No matter what size the dog is, big or small, it needs to chew on something. However, there are not many options available for edibles for mini breeds. However, Purina comes with a delicious treat just for your small pet dogs. Made with nutritious ingredients and filled with pork in the center, this is the best that your dog can chew on.
It undergoes complete nutritional analysis to be 100% safe and highly nutritious for consumption. You might ask what its other features are. Well, let's have a look.
Pros
It comes with no rawhide.
It is easily digestible due to its high fiber content.
It is filled with delicious meat like beef and pork in its middle.
You get 30 pieces of this little joy in each packet.
It is relatively cheap yet delicious.
It is excellent for small breeds.
Cons
It is not for larger dog breeds.
Also Read: Seven Dog Breeds With Short Lifespans
6. Nature Gnaws Extra Large Bully Sticks For Large Dogs
Large dogs need large treats and extensive dental maintenance. This treat is perfect for such dogs. Made to look like a wooden stick, it is very fit to satisfy your big dog's aggressive chewing instincts. Not to mention, it comes with its fair share of nutritional value and an irresistible taste. This is one of the high vet-recommended dog chews for aggressive chewers.
Pros
It is excellent for large dog breeds. However, you can also use it for smaller breeds.
It comes in different shapes and sizes to cater to the unique needs of every dog.
One pack has six bully sticks.
It comes with no rawhide content.
It is high in protein and other nutrients.
It is specially made to withstand aggressive chewing to maintain the dental health of all dogs.
It is easily digestible.
It is 100% natural.
Cons
It comes in only one flavor: beef.
Also Read: Dog Food Brands To Avoid In 2023 [+ 5 We Recommend]
7. Nylabone Natural Nubz Edible Dog Chews
The only thing dogs love more than being goofy and playful is chewing. You can't blame them. It is their instincts. Even more importantly, it is essential to maintain their dental health. A good doggo deserves lots of treats. And what can be better than something it loves to gnaw upon?
That's why Nylabone is here with yet another dog treat. Made from chicken, these treats are safe to eat. So let's see why your dog will love this treat.
Pros
One packet contains 22 chicken treats.
It comes with a very high fiber content that improves your dog's digestion.
Your dog will experience a lot of fun while chewing this.
Dogs love chicken. That's why it's hard for them to resist the flavor.
It is made with real chicken.
It helps clean their teeth and gums and maintains perfect oral health.
Cons
It isn't like a bone that your dog can chew upon. It is simply a treat.
Also Read: Ultimate Guide To Puppy Teeth
8. Pet Factory 78128 Beefhide
If your dog has digestive issues, then nothing beats this treat. Not only is it delicious, but it is very high in fibrous content as well. So, if your dog has weak digestion, this can improve it. Not only that, its braided texture makes it very enjoyable to dig teeth on. Great for aggressive gnawers, this is something you should seriously consider buying for your dog.
Pros
It is highly fibrous, hence great for digestion.
It is pleasurable to chew due to its braided texture.
It is a very trusted and safe product.
It is 100% natural. It doesn't come with any artificial additions like hormones or chemicals.
It is excellent for your dog's overall health, along with teeth and bones.
It is greatly helpful in cleaning teeth.
Cons
It is only available in beef and chicken flavors.
It is pretty small in size.
Also Read: How Much Collagen Should I Give My Dog? A Concise Guide
9. Wag Training Treats For Dogs
Dogs learn quickly when they know a delicious treat is on the line. That's the best way to teach your beloved furry friends. For that, there are plenty of dog treats in the market. However, this one is the best. If your dog is making quick progress, it might need more treats. If that's the case, don't worry.
Since they are small in size, you can give them multiple treats in a day. Not only that, they have a great chewy texture.
Pros
They are of chicken flavor- your dog's favorite.
100% natural with no artificial flavors and substances.
They come in the form of pellets, so it is easy to give them to your dog.
Great for small breeds.
Cons
They are not highly preferable for larger breeds.
Your dog can't gnaw on it.
Also Read: What To Do If My Dog Is Shivering A Lot
10. EcoKind Dog Bone Giant Femur Bone For Dogs
Last but not least, there's yet another excellent bone treat for your dog that it can gnaw on. Perfect for medium and large-sized breeds, it is ideal for aggressive chewers. Let's look at why it is the best for your furry pets.
Pros
It is 100% natural. Hence, it won't harm your dog's health.
It comes with large tendon pieces your dog can chew on for extended periods.
It is very nutritious with all the necessary minerals and vitamins.
It has a rich protein content.
It is easily digestible.
It is best for large and medium-sized dogs.
It is USDA certified.
They can last for months.
Cons
It is a bit expensive.
It is not great for small dogs.
Also Read: 9 Best Shock Collar For Large Dogs
What To Look For While Buying A Dog Bone?
A dog bone is essentially a type of food. That's why it is necessary to take proper precautions and steps to buy the appropriate dog bone. Below are some of the things you need to remember before purchasing a bone for your dog.
Safety
It is a multi-dimensional aspect when it comes to edibles. The bone should be strong enough to withstand the bite force generated by the dog. Because if it breaks, its sharp pieces can seriously hurt your dog's mouth. Another aspect is to look at the ingredients of the product. Are there any artificial constituents of the bone like hormones, chemicals, or artificial flavors? This question is essential because dogs' digestive system is not very strong. So, everything needs to be 100% natural and pure. Also, the dog bone should be fiber-rich to improve digestion.
Flavors
Everybody loves excellent flavors. Your dog too. So make sure that you get a chewy treat of your dog's favorite flavor. Also, make sure that it has the meaty flavor that your dog can't resist, like beef, chicken, or pork.
Conclusion
Dogs are man's best friends. So, they also deserve the best. Even though many treats are suited for all sizes of dogs, some can only be used by dogs of a particular size. So, only buy such bones that are fit to be used by your dog. When choosing the bones, make sure they are the correct size. The bone must be light enough for your four-legged friend to carry around but large enough for them to bite at the ends rather than trying to devour the whole thing. It's the gnawing sensation that will help them clean and maintain their teeth. As a result, the more they chew or gnaw on it, the better it will perform.
So, always make sure that your dog always gets its favorite bones with an irresistible taste.
Heather Abraham is a professional blogger who owns two dogs, a cat, a parrot, and a leopard gecko. She has a connection with animals since she was a child. She shares her love for all pet breeds and provides information on pet food, toys, medications, beds, and everything else.
She is committed to learning about the internal workings of animals. Her work permits her to work closely with knowledgeable vets and obtain practical expertise in animal care. When she is not working, her love of animals continues in her writing. Her goal is to educate and uplift readers who also have a passion for animals through her writing.